Smaller Classroom Sizes
While South Pasadena isn't a sprawling, eclectic city like neighboring Los Angeles, families are flocking to this modest and charming town because of the award-winning school system located within its city limits.
The
South Pasadena Unified School District
houses five schools in total: three elementary schools, a middle school, and a high school. Because its student body population is smaller in size, students and their families can expect a more personalized educational experience. With less than 5,000 students in South Pasadena's entire school system, no child is a number. Its smaller classroom sizes promote a healthy and cohesive classroom culture and provide more opportunities for one-on-one learning. Classroom atmospheres are calmer and more productive, leading to an increased rate of student engagement and teacher retention. Teachers and staff are able to give each child the amount of attention they deserve and need, but parents and community support in this school system are just as prominent, making for a positive and nurturing environment conducive to learning at every level.
Award-Winning Schools Right Within City Limits
In South Pasadena, families don't have to look far to find an enriching and high-quality learning experience for their children. In fact, they don't have to look outside of their own city. With nationally-recognized elementary schools and a highly-esteemed middle school and high school, students of all ages have the opportunity to receive an exceptional education through every stage of their public school journey. While there is only one middle and high school, families have three elementary school options depending on
where they live
: Marengo Elementary, Monterey Hills Elementary, and Arroyo Vista Elementary.
At
Marengo Elementary
, faculty and staff are committed to encouraging the growth of students' wellbeing, creativity, and academic growth. Marengo Elementary holds a variety of programs, including a
Mandarin Dual Immersion Program
where students can learn both English and Mandarin. Marengo Elementary boasts exceptionally high language scores every year and an array of distinguished awards, including recognition as a California Distinguished School during the 2009-2010 school year.
Monterey Hills Elementary
might be the smallest school in the district, but it's definitely not lagging in academics. Monterey Hills Elementary typically boasts above-average math and language scores, so it's no surprise that Monterey Hills Elementary has racked up quite a few impressive awards. In 2016, Monterey Hills was awarded the California Gold Ribbon, beginning the school's journey into esteemed awards and ribbons in the upcoming years. Monterey Hills was recognized as a California Distinguished School in 2018 for its impressive gains and performance on state indicators. In 2019, Monterey Hills Elementary was acknowledged as a National Blue Ribbon School by U.S. Secretary of Education, Betsy DeVos, for its outstanding academic performance.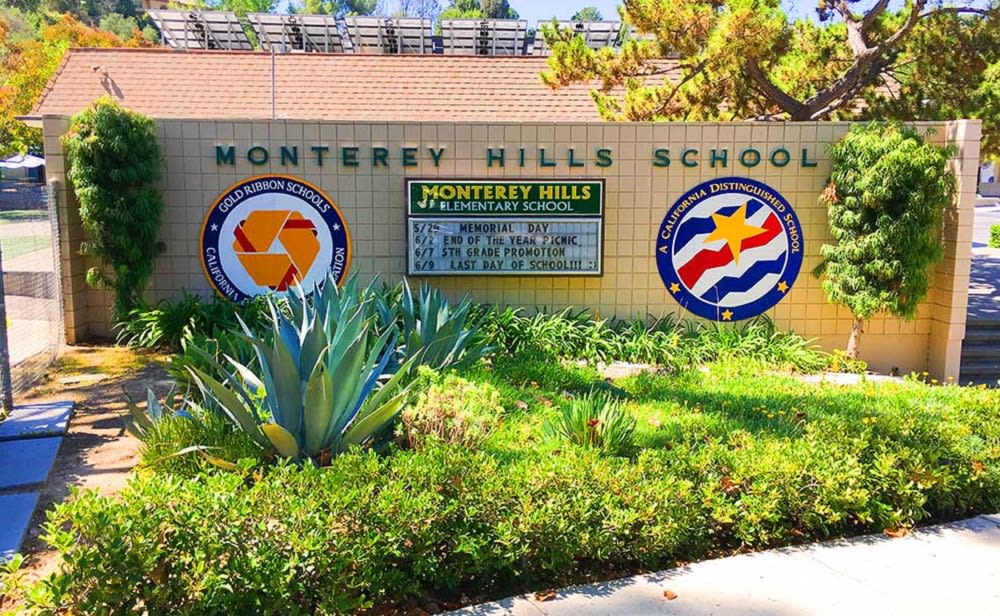 Arroyo Vista Elementary
has one of the most active Parent-Teacher Associations in the district. With a widely-supporting community, Arroyo Vista Elementary focuses on core values like respect, integrity, and diversity. Every year, Arroyo Vista Elementary's reading and math scores are well above expectations. Along with Monterey Hills Elementary, Arroyo Vista Elementary was selected to receive The National Blue Ribbon School Award in 2019 for its high-performance scores on state assessments.
As the district's only middle school, the
South Pasadena Middle School
has a lot of expectations to live up to, and it does so with flying colors. In 2017, South Pasadena Middle School was recognized as a Title Academic Achieving School. In 2021, this highly-esteemed middle school was named a California Distinguished School for its extraordinary student performance.
Just ten minutes from downtown South Pasadena is
South Pasadena High School
, an award-winning high school focused on high academic achievement and inclusivity. Accredited by the Western Association of Schools and Colleges, South Pasadena High School strives to provide students and their families with a high-quality education. As with the other amazing schools in the district, South Pasadena High School has a number of awards, including the California Distinguished School Award in 2014 and the California Gold Ribbon Award in 2017.
A Supportive, Involved Community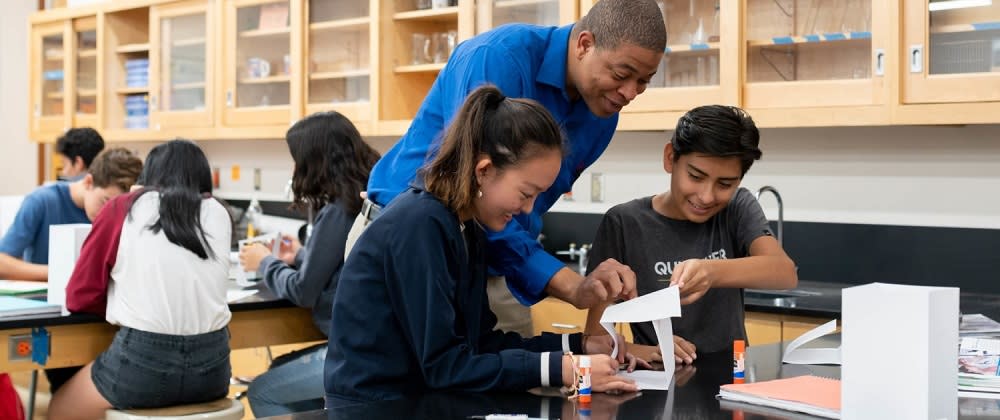 Image courtesy of South Pasadena Educational Foundation
Positive and engaging community support is crucial for widespread success in a public school system. In the South Pasadena Unified School District, the community outreach truly takes from its name, creating a very unified approach that has helped shape its schools into the award-winning learning experiences they are today. The community shows its support through a wide variety of avenues, including booster clubs, highly-involved parent-teacher associations, community donors, and the
South Pasadena Educational Foundation
.
Booster clubs like the South Pasadena High School Tiger Booster Club is one avenue that the community pulls together to help the school district, specifically the high school. This non-profit organization provides financial support to athletics, clubs, and extracurricular programs at the South Pasadena High School through a wide array of fundraising opportunities, including regular bouts of Tiger Bingo and the
Tiger Run
, an annual community event featuring a 5K, 10K, and fun run for children that boast over 500 community and school-wide participants. A few of the eligible groups within the high school able to receive booster support are dance, cross country, yearbook, drama, badminton, photography, sports medicine, and both boys and girls swimming.
Teachers, community members, and parents get involved in the school system on a higher level by becoming members of the Parent-Teacher Association. All five schools have active and engaging PTAs where members come together to create fresh strategies and ideas for South Pasadena schools with the intention of elevating the learning experience for every child. To take that to a new level, PTA presidents and board members from all five schools meet together at the
South Pasadena Council PTA
, which holds monthly meetings so that every school can collaborate together in a way that assists the school community as a whole. Members of the South Pasadena Council PTA are supplied with training and program opportunities to better serve students, faculty, and members of the community.
Non-profit organizations within the community are important supporters of the South Pasadena Unified School District, further cementing the fact that this community is something special. The
South Pasadena Chinese-American Club
is a major benefactor, awarding annual grants and scholarships to the district's schools and students as well as donating to school events and fundraisers like the South Pasadena Elementary School Fun Fair.
The
South Pasadena Educational Foundation
is one of the community's most prized foundations. Incorporated in 1980, this fundraising organization was created to alleviate the school district's budget restraints and help fund educational and enrichment programs. Over the course of its lifetime, the South Pasadena Educational Foundation has raised close to $14 million to help finance programs that the district wouldn't have been able to pay for alone, including training for cutting-edge teaching methods, latest technology, and visual and performing arts programs. This foundation obtains funds through various summer and after-school programs as well as donations from local residents, organizations, and businesses through projects like the
South Pasadena Educational Foundation Business Alliance
.
Supporters come through time and time again to support South Pasadena's schools, including
Meg Middleman
, a local real estate agent and active business alliance member of the SPEF, who makes a donation every time one of her home listings is sold. Anywhere residents look, the South Pasadena community is here to support its schools, making it one of the many reasons locals love living here.
Highly-Qualified Teachers and Staff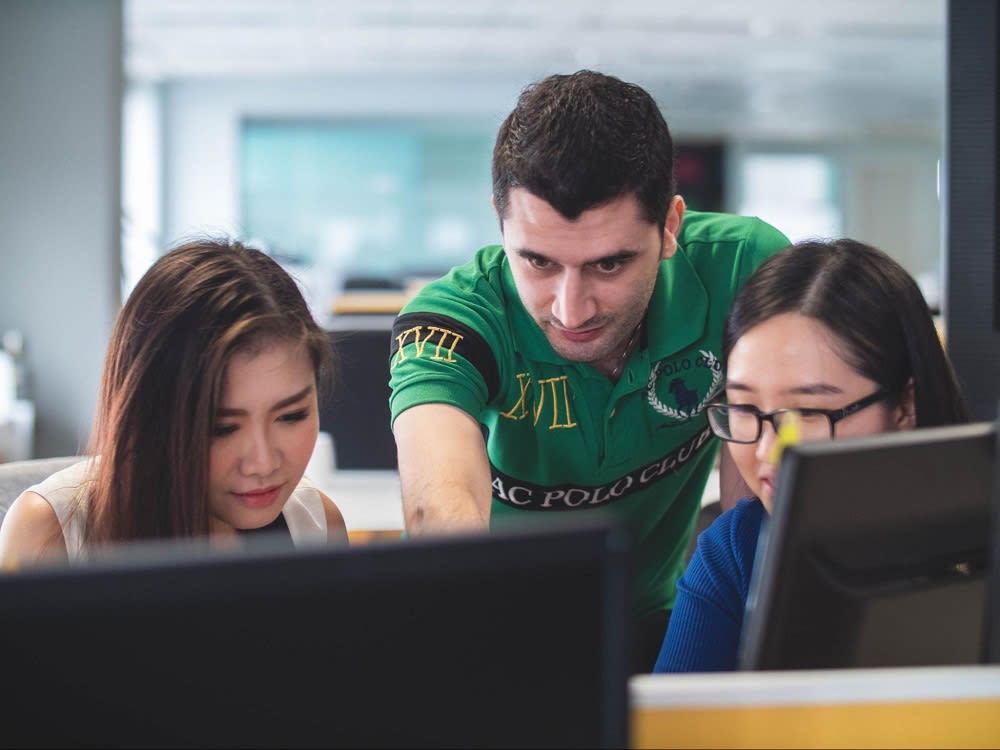 Teachers and staff are the backbones of a school system, and without them, it would crumble. The South Pasadena Unified School District prides itself on employing skilled, efficient, and licensed teachers and staff who strive to help each and every student to the best of their ability. Many teachers are active members of the Teachers Association of South Pasadena, the
South Pasadena Council PTA
, and participate in various organizations and activities to support and aid in positive educational impacts within their school district.
Many teachers and staff have been awarded distinguished honors based on their exemplary teaching and positive impact in the classroom, including the University of Chicago's Outstanding Educator Awards, Teacher of the Year, and more. The school system's teachers and staff sacrifice their time and energy to the students of South Pasadena with grace and love, making the South Pasadena Unified School District a place where children can enter the classroom and know that they're going to have a great day.
South Pasadena might be small, but its school system and community have a lot of heart. Its schools are some of the best in the nation, so if you're looking to purchase a single-family
home
in South Pasadena, look no further than realtor
Meg Middleman
for all of your real estate needs. With over 35 years of expertise in the real estate market, Meg can provide a smooth, professional home-buying experience for you and your family.