The city of Pasadena is geographically close to the hustle and bustle of Los Angeles, but culturally, it's a world away. The city's unique architecture is one of the features that separates Pasadena real estate from the larger LA metro area.
Pasadena is indeed well-known today as the home of the Rose Bowl and its companion Tournament of Roses Parade — as well as CalTech, and numerous art museums — but it's Pasadena's history as a resort town for wealthy Midwesterners that first put the city on the map from an architectural perspective.
Pasadena real estate offers the rare city where choices range from established European revival and Spanish Colonial influences to iconic Arts and Crafts structures designed by brothers Henry and Charles Greene. Worth House, built-in 1908, is the pinnacle of this design aesthetic, merging Japanese timber-frame construction with an Alpine-inspired chalet facade. The result is a mansion unlike any other ever built, and it is widely credited as the beginning of the Arts and Crafts movement.
If you're considering a
luxury Pasadena home
, there's a property that will appeal, whether your taste runs to Craftsman or Mid-Century Modern.
Popular architecture in Pasadena
Craftsman is King in Pasadena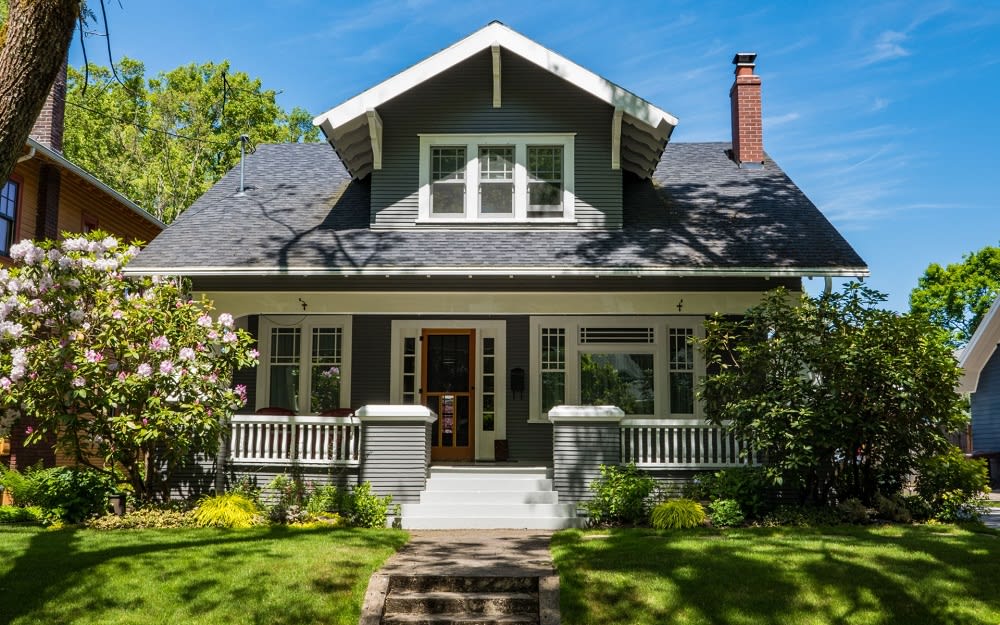 Furniture maker Gustav Stickley published The Craftsman magazine in the early 20th century, emphasizing simple forms and locally sourced materials in his furniture and house plans. Charles and Henry Greene, who helmed one of the most prominent design firms associated with Pasadena real estate in those years, followed Stickey's beliefs and began designing what is now known as Craftsman bungalows in the 1900s.
Greene's Craftsman design aesthetic is an extension of the Arts and Crafts movement that started in Europe in the late 19th century as a backlash against the highly stylized and ornamental Victorian architecture that was the hallmark of the Industrial Revolution. Arts and Crafts was a back-to-nature approach to design, using local materials in a way that was organic and natural and eschewing overdone details just because the technology existed for mass production.
What Defines Craftsman Style?
Craftsman design was considered a relaxed and more informal approach to architecture. Homes built in the style are designed for efficiency, with features like built-in cabinets and shelves. The quality of construction was paramount, and finishes and furnishings were usually made by local artisans using locally sourced materials. These are some of the hallmarks of Craftsman design to look for when you're shopping for a home in this style in Pasadena:
Natural materials like wood and stone are key

Wood siding, shingles, or cut stone are used on the exterior

They have low-pitched gabled rooflines, often with decorative dormers

Stone, stucco, wood, or brick columns support the roof

Covered, wrap-around porches are supported by tapered columns

Large bay or picture windows let in natural light

They were originally painted in earth tones like browns, greens, and grays

They often have leaded glass in sash windows
Pasadena Craftsman Standout: The Gamble House
The Greene brothers built a winter home for the Gambles of Proctor and Gamble in 1908, and this house, still known as
the Gamble House
, is one of the finest examples of Craftsman design in the world. Today, the house is unique because all the original furnishings, also designed by the Greene brothers, are still in the home. If you love Craftsman style, you can tour the house to look at authentic Craftsman architecture.
Craftsman Paradise in Bungalow Heaven.
If you're focused on buying a Craftsman as part of your Pasadena real estate hunt, the
Bungalow Heaven
neighborhood is chock-full of preserved Craftsman and Prairie style cottages, many of which have been restored and preserved. There are also other architectural styles in the 16-block area, which is just off Orange Grove.
A City of Catalog Craftsman
You may have heard about "kit homes" from the early 1900s that you could order from the Sears catalog and build yourself, and there are examples of Craftsman
Sears houses
in Pasadena. Many also ordered a kit home from
The Ready Cut Bungalow Company
for $650. Plumbing fixtures set owners back about $150, and they put in sweat equity to assemble the 10,000 pieces into a home.
Spanish Revival Stands Out in Pasadena
When we think of the architectural style most common to Southern California, Spanish Revival usually springs to mind. These houses are inspired by the architecture of hot, dry climates, as exemplified by Mexican, Mediterranean, and Moorish designs. Spanish missions, which were built with interior courtyards to keep the buildings cool on the hottest days, define the rustic character of this home-style while also emphasizing the simplicity and laid-back vibe that's so popular in Pasadena real estate.
Older Spanish Revival homes have thick walls to keep out the heat; any of these homes still in existence have the benefit of lower electricity costs in the summer.
Other elements of Spanish Revival to look for in Pasadena homes are as follows:
Bright white exterior walls that reflect the heat of the sun

Terra cotta flat roofs with cylindrical red tiles that are typical of California design

Exposed heavy wooden beams that were originally used to hold up the heavy tiled roofs and now are mostly decorative

Small windows with heavy shutters, a throwback to pre-air-conditioning days when the shutters were closed during the hottest part of the day

Decorative wrought iron

Carved wooden doors

Soft arches

Beaux-Arts Beauties in Pasadena
Pasadena real estate also offers
stunning estates in the Beaux-Arts style
. Many homebuyers think of grand luxury homes with classical Greek or Roman revival elements — columns, cornices, symmetry, arched windows and doorways — and manicured grounds.
Fans of "The Gilded Age" will recognize this style from its seaside cottages in Newport, R.I., or the Fifth Avenue mansions shown on the show. Late 19th-century architects in Pasadena built Beaux-Arts winter homes for industry titans from the East Coast and Midwest; the best example is the Wrigley Mansion on Orange Grove Avenue.
Beaux-Arts homes are visible proof that the "more is more" school of design can be elegant and sophisticated, even when it pulls architectural elements from several design philosophies. "Eclectic" best describes the Beaux-Arts aesthetic, with these typical characteristics among the ones to look for in Pasadena:
Italian and French Renaissance elements

Stone, marble, or limestone exteriors

Pavilions and colonnades (similar to the arcades in MIssion revival homes)

Grand entrance halls and stairways

Statues and sculptures in the house and gardens

Highly decorative plasterwork
A Smattering of Pasadena Victorians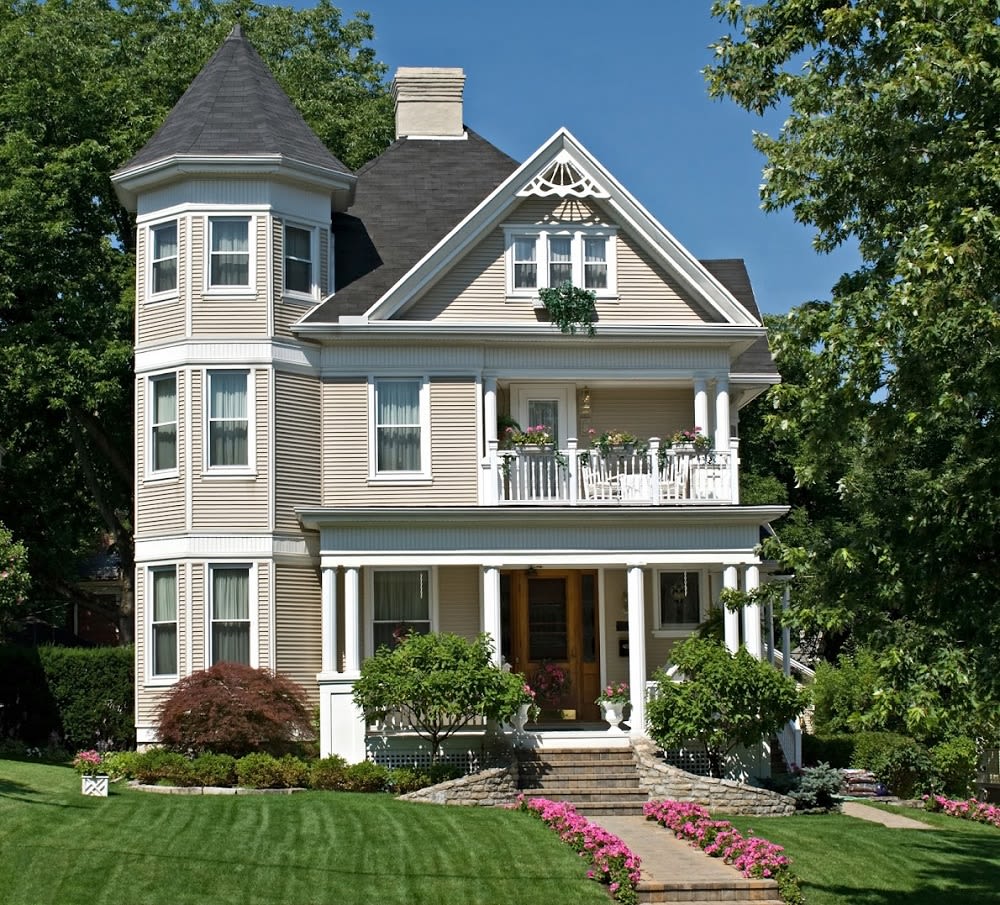 Millionaire's Row on South Orange Grove Boulevard offers some of the few
examples of Victorian architecture
in Pasadena. These homes feature the finest in rococo style, with lots of color, texture, and patterns inside and out. Typical Victorian details include steeply pitched rooflines, an asymmetrical facade, an extensive front porch, and a dominant gable.
Victorian architecture is vertical — homes have long, narrow windows, turrets, and towers and are two or three stories, drawing the eye upward to the roof. Ornate gingerbread wood trim and painted iron railings are also hallmarks of this 19th-century style.
Today, many of the Victorian mansions that used to line Orange Grove are gone, but the
Markham Place Historic District
features a few homes constructed in the Victorian folk style.
Pasadena's Mid-Century Modern Marvels
Mid-century modern is a design extension of the Craftsman homes from the early 20th century, and the style reached its heyday in the boom years following World War II. Pasadena was almost fully built out after the war, so intrepid architects built low, light-filled homes into the hillsides for a striking effect. Local historian and artist Alson Clark said that the movement adopted the best of the Arts and Crafts tradition, Frank Lloyd Wright's Prairie style, and the high design standards of local architects to create an entirely fresh take on design. Mid-century modern beautifully blends form and function, as the homes are built to blur the lines between indoors and outdoors. These are some of the defining characteristics of the mid-century modern homes you will see in Pasadena:
Structural transparency in the form of exposed beams

Floor-to-ceiling windows

Long, low profiles

Flat rooflines or a low, sloped roof
Pasadena architect Wallace Neff designed one of the most iconic mid-century homes after WWII, the famous
"Bubble House''
on Los Robles. Neff designed the one-room roundhouse to combat the global housing crisis, saying that one could be built quickly and easily.
Pasadena real estate has many more traditional mid-century modern homes, such as ranches and split levels.
Finding Your Home in Pasadena
The
Middleman Team
is here to guide you through all the wonderful architecture in Pasadena real estate, ensuring that you can find the luxury home of your dreams, whether you fancy a Beaux-Arts mansion or a Spanish Revival hacienda. Our real estate agents are experienced in all aspects of the Pasadena luxury real estate market, and we will make your vision a reality.
Recommended Reading:
3 Tips for Preparing Your Pasadena Home to Sell